Dr. Scott Gardiner
BSc, DVM, Practice Owner
Born and raised in rural Ontario, Dr. Gardiner grew up with several cats and dogs, two hamsters and a budgie as part of the family. He vividly remembers the family dog that passed away of heartworm disease after a lengthy and mysterious illness, bringing the awareness of veterinary medicine to the forefront at an early age. He always loved their family pets, but his dream of becoming a veterinarian was truly solidified while working on two local dairy farms as a teenager and as he moved on into university.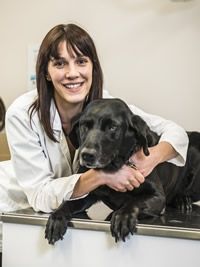 Dr. Melissa Cirinna
BSc, DVM, Associate Veterinarian
Dr. Mel Cirinna graduated from the Ontario Veterinary College in 2009 and began working in small animal medicine in Kitchener. In 2012 she joined the Woodlawn Veterinary Hospital team. Dr. Mel's childhood home was always full of animals which fostered her love of animals and desire to pursue a career working with them. She has a strong interest in feline medicine and the care of geriatric pets. Dr. Mel lives in Guelph with her husband and their three daughters. When not working she can be found enjoying the outdoors with her two and four legged family members or training for her next obstacle race.
Dr. Noppakao Thepsuree
DVM, Associate Veterinarian
Dr. Thepsuree graduated from Mahidol University (Thailand) with a Doctor of Veterinary Medicine degree in March 2007. He then practised as a small animal veterinarian for 6 years in a client-centered 24 hour-veterinary hospital, where he gained wide experience providing health care to companion pets.

Dr. Thepsuree has called Canada home since 2013. He pursued his love of working with animals here first volunteering, and then working with, a local humane society. Since 2016, Dr. Thepsuree has worked in veterinary care settings, although he still actively volunteers - both with local humane and veterinary groups as well as with CVO and OVMA.

In December 2019, Dr. Thepsuree was awarded his Certificate of Qualification after completing the CVMA – National Examining Board licensing and clinical proficiency exams. He has special interests in soft tissue surgery, dentistry, and internal medicine. He is thrilled to be part of the compassionate and patient focused veterinary care team at Woodlawn Veterinary Hospital.
​​​​​​​
Dr. Thepsuree loves living in scenic Centre Wellington with his family. He enjoys exploring the County's many hiking trails as well as practising beginner yoga.